To print to a Pharos printer from a Macintosh computer, please follow the following procedure.
Verify you're on the proper network
Pharos printers only work if you're connected to the campus network one of three ways:
Hard-Wired (Ethernet) Connection
Install Pharos Popup
Download and install the Pharos Popup program from the following URL:
https://support.soe.ucsc.edu/sites/default/files/CP_Secure_10.8.dmg
Install Ricoh Drivers
Download and install Apple's Ricoh drivers from the following URL:
https://support.apple.com/kb/DL1867?locale=en_US
Verify Printer
In the top left menu under the Apple icon, go to System Preferences > Printers & Scanners. The CP_Ricoh_Secure_Printing printer should have automatically been added to the list of printers by running the Pharos Popup Installer.
If it is not there, try repeating the steps above.
Set printer "Presets"
Once the printer CP_Ricoh_Secure_Printing is on the list, open ANY Document (for example a Microsoft Word document). In the top menu go to File > Print or use the keyboard shortcut "Command+P" A print dialog will appear. In the Print dialog, third dropdown menu from the top, select "Layout".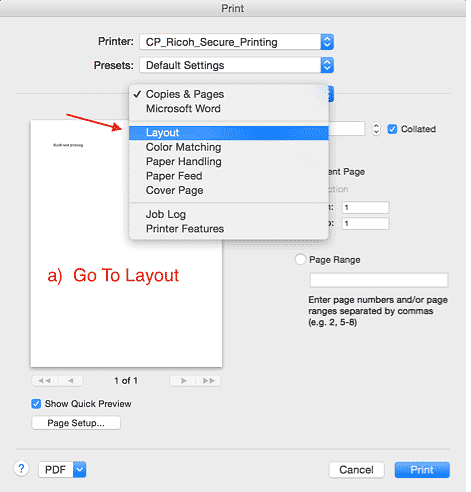 In "Layout" select "Two-Sided: Long-Edge binding".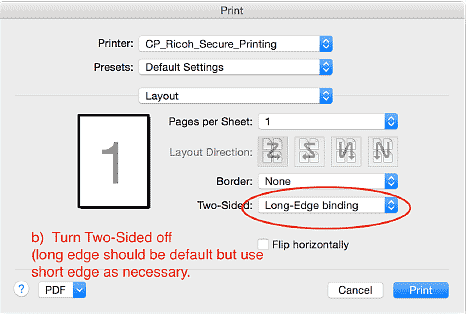 In the same third dropdown menu select "Printer Features".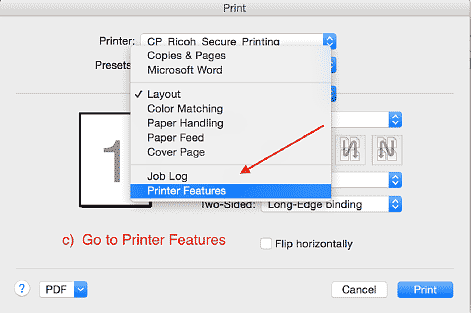 In "Printer Features" set "Color Mode: Black and White".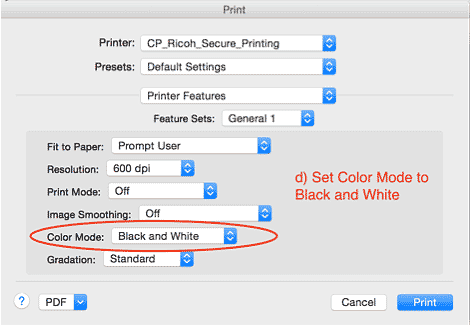 In Printer Dialog, click "Print". The Pharos "Popup" should now appear, enter your CruzID - the first part of your UCSC e-mail address as shown "cruzid@ucsc.edu".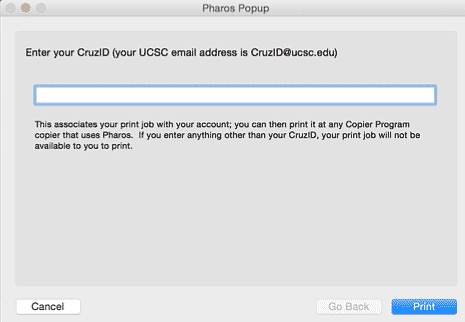 Every time you print, verify that the printer is using "Default B/W 2-Sided" as its Preset.