BSOE runs the X2Go service on a number of our BSOE Dance Linux servers to provide remote access to a GUI environment, securely tunneled through an SSH connection. The X2Go client can be used to connect to these servers. One handy feature of X2Go is that you can disconnect from a running session and reconnect later, allowing you to run GUI software unattended in a fashion similar to backgrounding a process.
PLEASE NOTE THAT YOU MUST BE CONNECTED TO THE UCSC VPN SERVICE IN ORDER TO CONNECT TO BSOE LINUX SERVERS.
Client Configuration
The X2Go client should be configured with the host name of the server you wish to use, your BSOE user name, and your session type is your desktop window manager of choice. XFCE and MATE are good, lightweight options that work without additional configuration.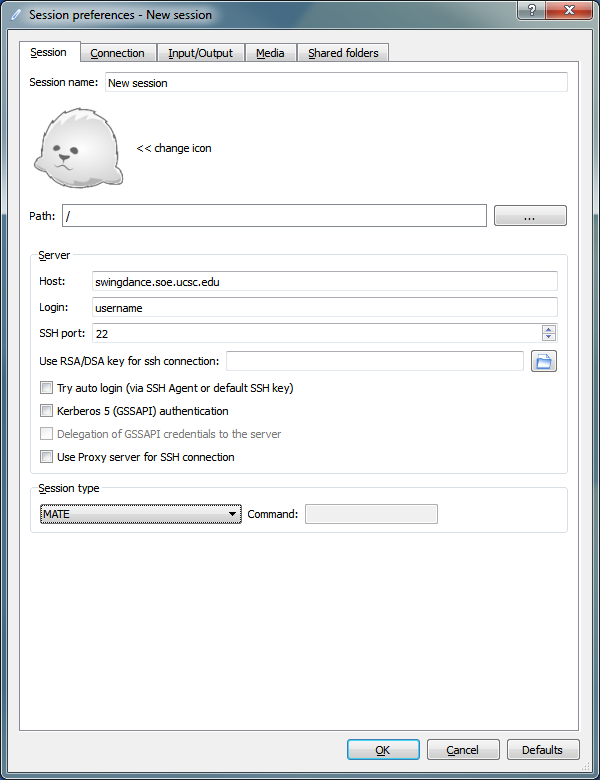 Disconnecting from a session is as simple as closing the active window to disconnect. To reconnect, initiate your saved connection and the client will detect a suspended session and ask if you'd like to reconnect to it (after the first time it will automatically reconnect). If you disconnect when you're running software (e.g. MATLAB) it will continue to run and you can reconnect later to check results. If your network connection drops while you're using X2Go, it will automatically suspend your session so that it is not closed out.